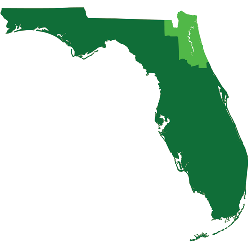 Northeast Florida
Putnam County
Designated one of the best bass lakes in Florida by Florida's Fish and Wildlife Conservation Commission, Rodman Reservoir yields the biggest largemouth bass in January. The reservoir, located just southwest of Palatka, is a heavily vegetated, stump-filled area perfect for fish. In spring, bass spawn in shallow areas, and by the summer months, they may wander into the Ocklawaha River channel and the Cross Florida Barge Canal, where waters can reach up to 30 feet deep. Golden shiners floated under a cork make great baits along the walls of hydrilla mats. Other weedless lures—such as jerkbaits, soft plastic worms and spinnerbaits—attract bass. Stumpknocker (spotted sunfish), redbreast sunfish, bluegill, redear sunfish and catfish also can be found in the fertile waters of Rodman Reservoir.
The Cross Florida Barge Canal and Ocklawaha River channel are great places, especially in winter, to catch black crappie on spinners and tiny jigs.
Lake George is a 46,000-acre natural expansion of the St. Johns River, and is one of Florida's premier bass fishing destinations. Live shiners or artificial lures should be used near eelgrass beds and deeper pilings to attract fish. While the western shore's eelgrass has been almost depleted by the 2004 hurricanes, the beds near the northeast sections have recovered well, and hold plenty of fish.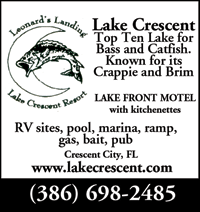 Duval & Nassau Counties
Bass fishing is legendary along the St. Johns River, which flows north for more than 300 miles through Northeast Florida. Submerged vegetation along the banks provides great habitat, while soft plastic baits, topwater lures and
jerkbaits produce the best results. Also, shad-imitating lures can fool fish in moving water.
North of Jacksonville, the Nassau and St. Mary's rivers wind their way eastward, where they meet the Atlantic Ocean. December through May is the best time to fish for the popular striped bass, which can top 20 pounds. Favorite baits include live eels and shad-imitating, deep-diving lures. Seatrout, black drum and redfish can be found in the same areas.
Clay County
Doctor's Inlet, part of the St. Johns River, is a hot spot for largemouth bass and redear sunfish. Bass can be found near lush eelgrass beds year-round. Areas upstream of Palatka make for the best fishing areas.

Flagler County
One of the largest freshwater lakes in the state, 16,000-acre Lake Crescent is a prime location for bass and black crappie. Look for bass near docks and other structures during fall. Weedless spoons, plastic worms, live shiners and jerkbaits are productive lures for fish in this area, which has some of the highest catch rates in the St. Johns region.
Crappie anglers are successful while drifting on open water using minnows or jigs in winter and early spring. Dead Lake and Haw Creek, located at the south end of Lake Crescent, are popular fishing areas.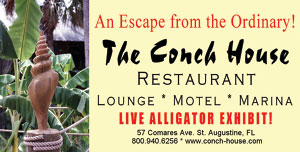 St. Johns County
St. Augustine's coastal waters provide wonderful opportunities for any angler. Crescent Beach, only 25 minutes from downtown St. Augustine on Anastasia Island, is a great place to drop a line, as is Vilano Beach, a three-minute drive from downtown. Hire a deep-sea charter boat to catch larger fish offshore, or cast off the pier. St. Augustine is home to the annual Kingfish Challenge and billfish tournaments. Marlin, dolphin, seatrout, flounder and redfish also are abundant.
Atlantic Waters
Grouper, king mackerel, black sea bass, sheepshead, pompano, flounder, bluefish, cobia, and silver and speckled seatrout all can be found in warm waters off the coast of Fernandina Beach. The great amberjack is legendary in the area, as it has been known to reach five feet in length and weigh more than 150 pounds.
Flagler Beach
The narrow island of Flagler Beach is located between the Atlantic Ocean and the Intracoastal Waterway, a deep-water channel teeming with snook, bluefish, whiting, redfish, tarpon and snapper. Raw chicken is a great lure to bring in succulent blue crab. Anglers can cast off the Flagler Beach Pier, or launch a boat from the county dock or Gamble Rogers Memorial State Recreation Area.
Jacksonville
The Jacksonville area, nestled between the warm waters of the Atlantic Ocean and the north-flowing St. Johns River, is a great fishing location where anglers can journey offshore to catch grouper, sailfish, yellowfin tuna, wahoo, Spanish mackerel, red snapper, jack crevalle, black sea bass and king mackerel.