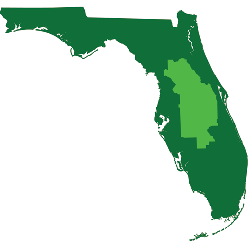 Central Florida
Highlands County
Shallow 27,600-acre Lake Istokpoga is regularly selected by the Florida Fishing and Wildlife Conservation Commission as one of the state's top fishing spots. The lake boasts one of the highest largemouth bass catch rates in Florida, and also yields a high number of black crappie. Look for black crappie in the lake's northeast and southwest corners, especially in cool winter months. Largemouth bass can be found near canals, island areas and among aquatic vegetation year-round. Note: a slot limit protects quality largemouth bass by requiring that all bass between 15 and 24 inches in length must be immediately released back into the lake. The daily bag limit is three fish per day. Only one of the three fish may be greater than 24 inches.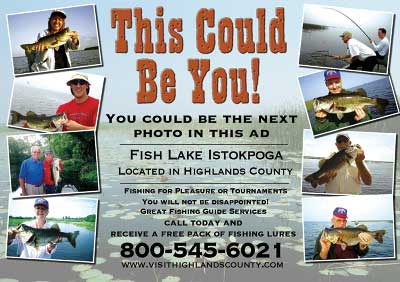 Polk County
Polk County is known for successful bank fishing, and is home to more than 550 lakes. Look for largemouth bass, bluegill, sunshine bass, black crappie and catfish all year long.
The Tenoroc Fish Management Area is famous for quality sport fishing opportunities, where anglers can fish for largemouth bass, bluegill, sunshine bass and redear sunfish. Tenoroc is equipped with facilities for disabled anglers, modern boat ramps and landscaped bank fishing spots.
Lake Parker is another fish management area located in Lakeland. The almost 2,300-acre lake has three boat ramps available for easy, convenient fishing.
Search for hefty largemouth bass in Lake Weohyakapka, otherwise known as Lake Walk-In-Water. The lake, more than 7,500 acres, is just 10 miles east of Lake Wales and four miles south of State Road 60, between Lake Wales and Yeehaw Junction. Trophy-sized fish can be caught in the lake, which is routinely selected as a top bass fishing site by the Florida Fish and Wildlife Conservation Commission. Anglers may catch up to 25 fish in a single day, with several fish weighing in at four to eight pounds. Be aware of regulations regarding largemouth bass and other fish species.
Fish camps—offering guides, bait and other fishing necessities—are abundant throughout Polk County's lakes. Camps can be found on Lake Kissimmee, Lake Walk-In-Water, Lake Rosalie, Lake Hatchineha and the Winter Haven Chain of Lakes. 
Osceola County
Just minutes from downtown Kissimmee, Lake Tohopekaliga—Lake Toho for short—encompasses 17,810 acres, full of bluegill and largemouth bass. Look for bass in deeper waters during the warmer months, and near offshore vegetation in the Kissimmee lakefront area. Golden shiners, spinnerbaits and plastic worms are effective baits. Tournament records have been set in this popular area in national bass fishing tournaments.
Lake County
Lake Yale, a 4,000-acre lake northwest of Eustis, is full of bluegill, sunfish and plenty of small largemouth bass. Cast a line into more vegetated areas of the lake during summer. The best time of year to look for bass is December through April, when waters are cooler. Black crappie can also be found during this time. Bass are prone to biting weedless rigs along the shore, while top water bait works well in canals. Drift along the lake using minnows or jigs to find crappie in deeper areas. Move to shallow parts when fish start spawning.
Marion County
Large bass can be found on Lake Bryant, inside the Ocala National Forest. The 767-acre lake is bordered with plenty of grasses and lily pads, making a perfect environment for largemouth bass, bluegill and redear sunfish. Live bait and artificial lures work well when fished near grasses. Live grass shrimp will attract bluegill, crappie and small bass.
Sawgrass pockets and lily pads offer excellent cover for largemouth bass early in the year. Anglers should use shiners and plastic worms. During spring and summer, especially at dawn or dusk, schooling bass can be hooked with shad-imitating crankbaits in open water. The best black crappie fishing is from December through March.
Orange County
The Conway Chain of Lakes comprises 1,800 acres of water and four interconnected lakes. The hard sand bottom and areas of peppergrass, hydrilla and eelgrass are good habitats for bass. Collectively, the four-lake chain is called Lake Conway, and is known for schooling bass during late fall and early winter, when water temperatures are a bit cooler. Anglers should look for the surface activity of feeding birds to find bass schools. Try jiggling spoons, soft jerk baits, white spinnerbaits and top water lures. Crappie can be taken with beetle spins and jigs.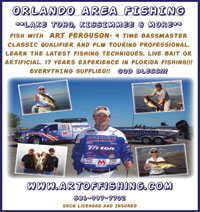 Seminole County
Lake Jessup is considered by experts to be one of the best fisheries in the lower St. Johns River area for black crappie, bluegill and redear sunfish. Spinners and minnows work best on crappie, while crickets and worms attract bream.
Sumter County
Lake Panasoffkee is a spring-fed lake flowing at two million gallons per hour. The shallow lake rarely exceeds four feet deep, and consists of 4,460 acres of fish management area. The lake is known for high populations of redear sunfish, but bluegill, catfish and largemouth bass are also abundant.
February through April is the best time for bass fishing, though plenty can be found year-round. Earthworms, grass shrimp and crickets are effective for catching panfish. Anglers should try top water lures and plastic worms to hook largemouth bass.