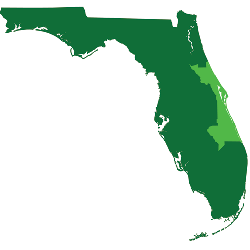 Central East Florida
Indian River County
Cypress and spatterdock line the shores of Lake Blue Cypress, a 6,555-acre lake known for black crappie. Small jigs and minnows are particularly effective at catching this species. Spotted sunfish, bluegill, catfish, shellcracker, redear sunfish and largemouth bass also are found in the shallow lake. Look for largemouth bass near structures or cover such as cypress trees.
Water depth varies throughout the year in the Garcia/Miami Lakes Reservoir, but it is always shallow. Look for smaller-sized largemouth bass on the edges of hydrilla beds, especially during the cooler months of winter and early spring. Live shiners, soft plastic jerkbaits and plastic worms work well in deeper waters. Other popular fish in the impoundment include bluegill, black crappie and redear sunfish.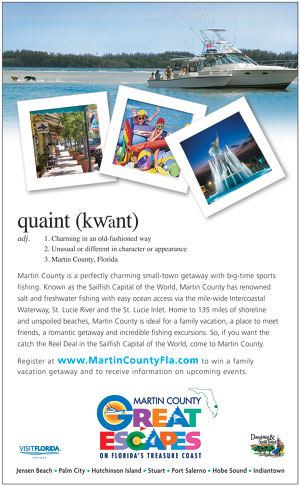 Farm 13, also known as the Stick Marsh, is a 6,500-acre impoundment located in northwest Indian River County. Boaters are advised to maneuver very cautiously due to man-made and natural hazards, such as sunken stumps and fences. Facilities include a double-lane concrete boat ramp, airboat launch site, restroom and paved parking lot. Gas, food and bait are not available on site, so come prepared. Popular sportfish include largemouth bass, bluegill, redear sunfish, black crappie and several catfish species. This water body is noted for its excellent bass fishing due to the special no harvest regulation on largemouth bass. This area was named one of Florida's top 10 largemouth bass fishing lakes by the Florida Fish and Wildlife Conservation Commission.
St. Lucie County
The Fort Pierce Inlet provides a great opportunity for some of the best lobstering in the state. In-shore reefs ranging from depths of 12 to 35 feet afford great trapping chances. The season runs from August to March 31.
The shallow Indian River Lagoon's brackish water sea grass beds are a haven for snook, redfish and spotted sea trout.
Freshwater fisherman can look for bluegill, black crappie and largemouth bass swimming through the grasses and under the lily pads at the Savannahs, a 550-acre chain of lakes and marshlands. The area can be fished from small boats with electric motors or from the banks. No gasoline-powered motors are allowed on the Savannahs.
Volusia County
Lake George is a 46,000-acre natural expansion of the St. Johns River. While most of the lake is less than 10 feet in depth, there is a deep natural channel, which is marked. The lake was named one of Florida's top 10 largemouth bass fishing lakes by the Florida Fish and Wildlife Conservation Commission. Use live shiners and artificial baits to catch largemouth bass. Look for the Florida black bass, the king of fish in the St. Johns River, all year long, but the prime season is from November through February and April through June.
Striped bass, up to 12 pounds, can be found during fall and winter in Lake George. Live shad or shiners, jigs and shad-imitating crankbaits are excellent to use around jetties.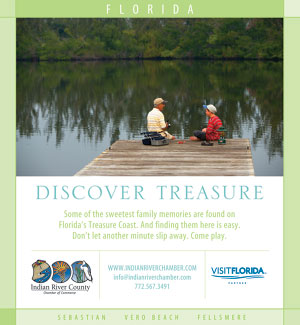 Brevard County
Lake Washington is Brevard County's largest lake, at 4,362 acres. Fishing enthusiasts use crankbaits, spinnerbaits, top water lures and live worms to catch largemouth bass. Small jigs and minnows are recommended to hook the lake's black crappie, which can be found year-round.
Lake Winder can be reached by boat, starting five miles downstream at Lake Poinsett. Look for largemouth bass congregating near aquatic vegetation from late fall through spring.
Okeechobee County
Known as the "Crappie Capital of the World," Lake Okeechobee is far and away the county's most famous waterway. Crappie can be caught effectively with minnows and jigs cast into open water. Redear sunfish, catfish, largemouth bass and bluegill also can be found in the area. Largemouth bass are caught best using spinnerbaits, crankbait and golden shiners.
Martin County
More than 20 marinas and a dozen fishing charters and boat companies call Martin County home, making the area an angler's paradise. Bait and tackle shops can be found throughout the "Sailfish Capital of the World." Snapper, mahi-mahi, grouper and wahoo also can be found in the nearby Gulf Stream. Florida's only cross-state canal can be accessed in Martin County, via the St. Lucie Locks and Okeechobee Waterway system.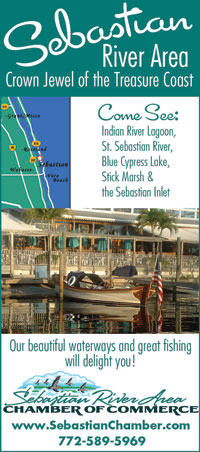 Indian River Lagoon
The Indian River Lagoon begins north of Merritt Island in Brevard County and travels down the coast to south of Fort Pierce in St. Lucie County. With more than 1,350 plant species, 310 bird species and 700 fish species—both saltwater and freshwater—the estuary system is a fishing enthusiast's dream come true. Barrier islands protect the lagoon from tidal variations affecting fish movement.
The Indian River Lagoon stretches for 155 miles, includes Mosquito Lagoon, the Banana River and the Indian River, and contains five ocean inlets. Large schools of jack crevalle appear in the lagoon and coastal waters in the spring. Common to both inshore waters and the open sea, jack crevalle feed on baitfish near the surface, causing a commotion that can be seen from a long distance, which makes them an easy target for anglers.
Sea bass, weakfish, ocean whiting and sheepshead can be found all year long in the Indian River Lagoon. Sheepshead caught offshore can commonly weigh up to eight pounds. The black-striped sheepshead can be found swimming near seawalls, oyster bars and in inshore tidal creeks, where shrimp and fiddler crabs abound. They spawn near the shore in late winter through early spring.
Sebastian Inlet
The premier saltwater fishing spot on the East Coast of Florida, Sebastian Inlet is home to spotted seatrout and ladyfish. Near sea grass beds, spotted seatrout spawn between March and November. They can be found inshore and near shore over grass, sand and mud bottoms. Seatrout will move into deeper, still waters during winter. Snook, redfish, bluefish and Spanish mackerel also can be found while fishing from two handicap accessible jetties at Sebastian Inlet State Park.
The town of Sebastian in Indian River County is known as a fishing hot spot, and is a vacation retreat for many fishing enthusiasts. Available boat slips offer easy access to offshore fishing grounds. Massive wahoo, dorado, blue marlin, grouper and amberjack can be found in the warm waters off the coast.
Florida's East Coast
The tarpon is a popular sport fish to be found off Florida's East Coast. The tarpon population is strongest during spring, summer and fall. During migration, it is not uncommon to see schools of 50 to 100 of the large, silver fish. Anglers frequently catch tarpon weighing more than 50 pounds in this region.
Surf fishing also is popular in the area, where various species can be found year long. Other year-round fish include pompano, whiting and red drum.