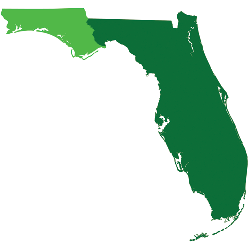 Northwest Florida
Jackson County
Formed by the Jim Woodruff Dam, Lake Seminole is a 37,500-acre lake located on the Florida-Georgia border. The lake boasts one of the best year-round bass fishing spots in the country, while catfish, black crappie and bream (bluegill and redear sunfish) also are popular catches. Plastic worms, topwater lures and spinnerbaits catch bass, while bream are fooled by earthworms, crickets and artificial flies. The lake can be accessed at Three Rivers State Park near Chattahoochee.
Ocheesee Pond is another popular fishing hole, where bluegill and largemouth bass can be found in abundance. Try using grass shrimp or crickets for bluegill. Conventional lures and live shiners are great for bass.

Holmes County
Black crappie, largemouth bass, catfish, bluegill and redear sunfish can be found in 130-acre Lake Victor, while Holmes Creek offers some of the best catfish and bass fishing in the area. Harmless freshwater eels, redhorse suckers and the rare shadow bass can be found in the year-round 68-degree waters.

Bay County
Conveniently located near Panama City Beach, Deer Point Lake is a great spot for largemouth bass from fall to early spring, while nighttime and early morning fishing is best during hot summer months. St. Andrews State Park, located on the Gulf of Mexico and Grand Lagoon, offers two fishing piers and a boat ramp for anglers looking for Spanish mackerel, flounder, sea trout, cobia and dolphin.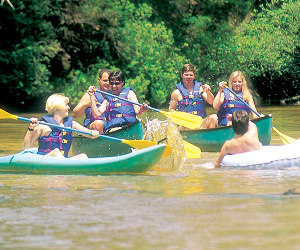 Calhoun, Franklin, Gulf & Liberty Counties
The Apalachicola River winds its way south from Lake Seminole to the Gulf of Mexico. Striped and sunshine bass can be caught using live shad, spoons and jigs. Flathead catfish bite shiners.
Known for its bream fishing, Dead Lake is located in Calhoun and Gulf counties. Cooler temperatures in the early morning and late evening provide a perfect time to fish. Lure bream using crickets and earthworms.

Escambia & Santa Rosa Counties
The Escambia River is home to 85 recorded species of freshwater fish—more than any other river in Florida. Boat launches can be found along the river for anglers looking for bluegill, redear sunfish, black crappie, largemouth bass and plenty more. Live shrimp and crankbaits are great for finding some of the area's famous bass. Record-sized blue and flathead catfish can be taken on heavy tackle using live sunfish (either caught by the angler or purchased from aquaculturally grown sources). Large numbers of sunshine bass populate the lower end of the river.

Walton, Washington & Bay Counties
The Choctawhatchee River stretches from Alabama into Florida. Largemouth and spotted bass, crappie, bream and catfish can be found, especially during times when the water level is low. Sunshine bass or striped bass are stocked annually.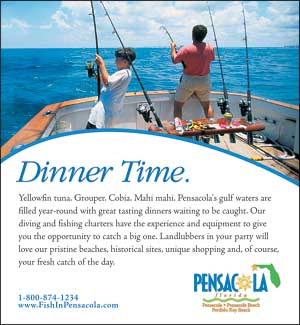 Okaloosa County
Created by an earthen dam across Hurricane Creek, Hurricane Lake has large populations of panfish, largemouth bass and channel catfish. Brush and other materials have been placed in the lake to attract a multitude of fish. Live bait and cloudy days make for a good fish yield.
The timber found throughout Lake Karick, another man-made lake, provides a great habitat for redear sunfish, bluegill, largemouth bass and catfish.

Liberty County
Redfish are a common catch for anglers fishing from the banks of the Ochlockonee River, while raw chicken provides the perfect bait to catch blue crabs. Redbreast sunfish and crappie can be found along the snags and brush piles.

Pensacola
Pensacola offers offshore anglers a wealth of opportunities to catch larger game, such as blue marlin, sailfish, wahoo and tuna.  Grouper, red snapper and other delicacies can be found among the area's numerous artificial reefs. Perdido Key, Gulf Breeze and Navarre Beach are all within easy driving distances of Pensacola, and are great fishing sites.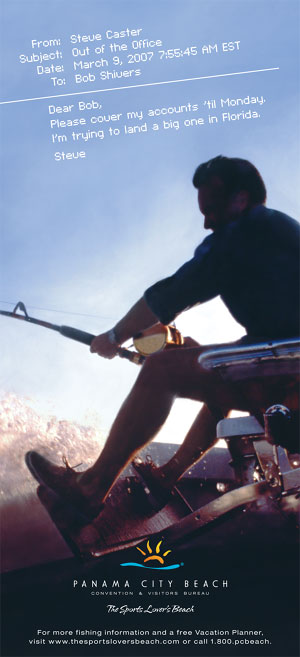 Fort Walton/Destin
Up to 20 species of saltwater game fish call the waters around Fort Walton and Destin home. Large numbers of sheepshead, Spanish mackerel, silver and spotted seatrout and red drum inhabit Choctawhatchee Bay.
Destin provides anglers opportunities to catch deep-sea bottom and open water fish, such as blue and white marlin, dolphin, wahoo, triggerfish and amberjack, among others.

Panama City
Fishing along the shores of Panama City Beach yields a wide variety of fish, such as whiting, pompano, Spanish mackerel, crevalle jack, black drum and bluefish. Plenty of bays in the region provide flounder, juvenile grouper, sheepshead and more, while offshore fishermen reel in gag and red grouper, king mackerel, cobia, sailfish, black sea bass and red snapper.

St. Joseph Bay
The shallow waters of St. Joseph Bay, located just west of Apalachicola, provide a great place for pompano, whiting, bluefish and Spanish mackerel, which can be caught from the shore using spoons, live bait and jigs. Sea grass offers a great habitat for spotted sea trout, redfish and sheepshead, while sweet bay scallops can be located while snorkeling in the calm bay waters.

Apalachicola Bay
Anglers who fish on docks and bridges near sea grass flats commonly find flounder and sheepshead. During the changing tides, until mid-October, redfish and sea trout can be caught using various live minnows and shrimp. Since sea trout prefer cooler weather, try using top water plugs early in the morning or late in the evening. The deeper waters of Apalachicola Bay are home to grouper, cobia and king mackerel. Hook cobia around buoys and artificial reefs using crabs and live eels as bait.

St. George Island
Two boat ramps at St. George Island State Park provide access to Apalachee Bay, a haven for redfish, flounder, sea trout, whiting and Spanish mackerel. The island's east pass is a great place to waylay pompano during their seasonal migration. Alligator Point offers opportunities to catch trout, redfish and black drum using shrimp or spoons.