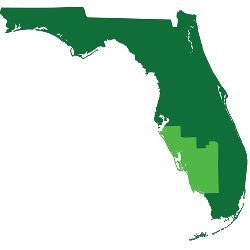 Southwest Florida
Charlotte County
Bank fishing opportunities abound in Charlotte County's man-made Webb Lake. Topwater lures, spinnerbaits, crankbaits and plastic worms can be used to catch largemouth bass, while bluegill can be hooked using crickets and red wigglers. Vegetation attracts redear sunfish and bluegill, which spawn until the end of summer. Tilapia and catfish can be caught using pieces of hotdog. Occasionally, snook up to 15 pounds can be found in Webb Lake, but be sure to follow the saltwater regulations for this species.
The slow-moving, 100-mile long Peace River is known for excellent canoeing and has plenty of deep holes that are perfect for fishing. Bass and catfish can be found in these holes, as can snook migrating from the Gulf
waters through Charlotte Harbor. The lower Peace River yields high quantities of tarpon.

Hendry County
Clewiston features plenty of private marinas and public launching ramps on Lake Okeechobee, which is known for its high quantity of bass, bluegill and crappie. LaBelle sits on the Caloosahatchee River, where bass can be hooked near aquatic vegetation using crankbaits.
Sarasota & Manatee Counties
The Myakka River can be accessed from Myakka River State Park and several other ramps downstream. The state park's covered pier is handicap accessible. Panfish, largemouth bass and catfish can be caught in the river throughout the year, while the best time for snook, which can be found in the lower river, is fall and winter.
Bream, catfish, snook and largemouth bass are plentiful in the Manatee River. Those species plus catfish, crappie and sunshine bass can be found in the 2,500-acre Lake Manatee.
Sanibel Island
Warm water and plenty of mangrove cover attract a high number of snook. Snapper and seatrout hide among the mangrove's extensive root system, so drop a careful line near these tangled trees. Tailing redfish and tarpon can be found in Sanibel's many inlets. Use live sardines, shrimp and pinfish to catch these game fish.
Coquina shelves off the coast of the island provide a great environment for black and red grouper. Tripletail, king mackerel, jack crevalle, shark, cobia and many more species of fish can be found in the relatively shallow offshore waters.
Naples
Permit can reach a size of 25 pounds, and put up a furious fight when hooked. Many fishing enthusiasts find the permit to be the hardest fighting fish in the sea. Naples's warm waters are a great place to find this fun fish, which can take 150 yards of line before being reeled in. Fiddler crabs, pinfish, shrimp and artificial lures work well to catch permit.
Spanish mackerel, bluefish and king mackerel can be found while trolling around Naples. Look for wahoo offshore, in waters more than 100-feet deep. During the winter months, wahoo travel south in search of warmer waters, and congregate near reefs, wrecks and other structures.
Marco Island
Marco Island is the largest island in the Ten Thousand Islands National Wildlife Refuge and is one of the best fishing spots in Southwest Florida. The islands, bays and channels interconnect, providing a wonderfully intricate fishing habitat. Crabs and shrimp are great baits to use on the area's numerous species of fish, including tarpon, snook, snapper, pompano, goliath grouper, mackerel, shark and seatrout.
Sarasota
As water temperatures begin to rise in spring, snook can be found in the waters near Sarasota. Look for them near the edges of creeks and rivers, using baits of minnows, sardines and shrimp. This same time of year is also a good time to find seatrout, pompano, redfish, cobia and tarpon, using small live crabs, shrimp and the occasional artificial lure.