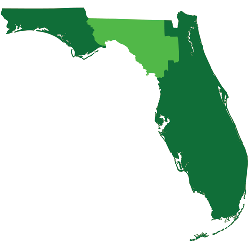 North Central Florida
The Suwannee River
From Georgia's swamps to salt marsh tidal creeks to the Gulf of Mexico, the Suwannee River flows for more than 200 miles through Columbia, Hamilton, Madison, Suwannee, Lafayette, Gilchrist, Dixie and Levy counties. The river yields good amounts of largemouth bass, with catches averaging two pounds or less being pulled in on a regular basis. Smaller Suwannee bass also can be found in the river, and are hooked using soft plastic worms, crawfish and lizard imitators, orange-skirted jigs, pork rinds and metallic crankbaits. Bass and other fish forage for crawfish that are abundant throughout the river. Fallen trees and other structures provide  great habitat for the river's bass.
Channel, white and bullhead catfish congregate in deep bends and limestone areas of the river. Anglers can catch smaller catfish year-round.



Columbia County
Lake City's Alligator Lake is a shallow, fertile lake with two fishing piers, a radio tower and several structures that attract large amounts of fish. Live minnows are great to use for black crappie, while bluegill and redear can be caught with live worms or crickets. Largemouth bass prefer areas with aquatic vegetation and are attracted to soft plastic baits. Use raw chicken liver to catch catfish roaming the bottom of the lake.
Dixie, Levy & Taylor Counties
Trophy-sized bass and crappie can be found in Lake Rousseau, as well as bluegill, catfish, redear sunfish and largemouth bass. Lake Rousseau is an impoundment of the Withlacoochee River, and its cypress trees, hyacinth and pennywort islands provide an excellent environment for fish.
Live shiners attract bass year-round, especially near vegetation. Medium-sized largemouth bass school during summer and can be caught with top water plugs or shallow divers.
The Econfina and Fenholloway rivers, located in Taylor County, empty into the Gulf of Mexico, and are known for trout, redfish and cobia in the shallow areas.

Gadsden, Wakulla & Leon Counties
West of Tallahassee is Lake Talquin, on the Ochlockonee River. Home to a nationally known black crappie fishery, Lake Talquin produced the current Florida record for crappie—3 pounds, 13.25 ounces. The peak season for crappie is January through April, while the lake's submerged stumps provide a wonderful habitat for fish. Popular baits for the area include live minnows, panfish jigs and small spinners.
Largemouth bass fishing has improved after five years of stocking by the Florida Fish and Wildlife Conservation Commission  (FWC).  Hatchery fish have attained weights up to 9.0 lb as of October 2006. Bass prefer creeks and bulrush for spawning in spring and are easily caught on plastic worms and shiners.
Bluegill and shellcracker can be hooked using live worms and crickets, while striped bass, found in cooler waters, prefer deep-diving lures that imitate shad.

Jefferson County
Lake Miccosukee is a prairie lake dominated by aquatic vegetation, which attracts unusually large bluegill, frequently 10 to 11 inches or larger. Use live crickets, grass shrimp or worms around the lily pads and marshy areas. Waters can be very low on the lake, so call ahead for current conditions.

Alachua County
Lake Newnan, located two miles east of Gainesville, has a large population of brown bullhead and catfish in its deeper waters, and an excellent bream population.  A largemouth bass fingerling stocking by the FWC is planned for spring 2007 and should show benefits by 2009.  Catfish and bream species can be caught with liver, worms, and minnows as the baits of choice.

Suwannee County
Largemouth bass are abundant in Suwannee Lake, a man-made, 63-acre lake. Fish for trophy-sized largemouth bass from September to May using black and purple plastic worms.

Bradford County
Lake Rowell's mucky bottom and cypress border provide an excellent habitat for largemouth bass. Panfish can also be found using worms and crickets. Look for fish near fallen trees and hydrilla.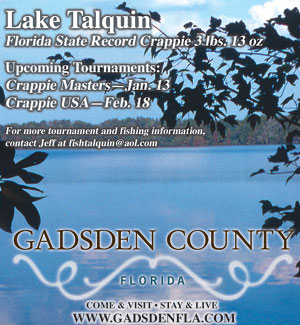 Cedar Key
Cedar Key's oyster bars provide a wonderful feeding ground for redfish, which can be caught using shrimp, while speckled trout are abundant on grass flats. Trout, ladyfish, pompano, bluefish and Spanish mackerel also can be taken with shrimp and a variety of jigs.
Reefs and rocky areas are a great habitat for king mackerel during spring and summer. Tarpon fishing, sometimes yielding fish as large as 200 pounds, runs from May through September.
Wacasassa Bay
Redfish and trout are popular fish in Wacasassa Bay, which borders the Gulf Hammock Wildlife Management Area. In fall, fish can be found near the edges of oyster bars and sand bars

Horseshoe Beach
The shallow tidal estuary of Horseshoe Beach offers anglers the chance to reel in various species of fish, including sea trout, Spanish mackerel, redfish, cobia and sheepshead. Use live shrimp in fall to catch redfish and sea trout, while sheepshead can be caught in winter using jigs and grub baits. Spanish mackerel and cobia are more prevalent throughout spring, summer and fall.
Grouper can be found year-round off Horseshoe Beach's shore. Red snapper similarly can be found all year long, but peak season is during summer. Spring and fall are prime time for king mackerel. Frozen or live baits work well for offshore species.